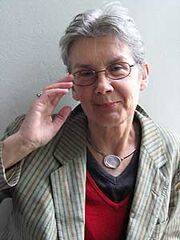 Adriana Szymańska, 1943-ban született Toruńban, Pułtuskban él, költő, esszéista, irodalomkritikus, műfordító, gyermek- (és felnőtt)könyvek szerzője.
Magyarul Körner Gábor fordításában, a Jelenkor 2000. szeptemberi számában jelentek meg versei (Emily Dickinson legye. Sírfelirat. A távozás szent helyeire... )
Ad blocker interference detected!
Wikia is a free-to-use site that makes money from advertising. We have a modified experience for viewers using ad blockers

Wikia is not accessible if you've made further modifications. Remove the custom ad blocker rule(s) and the page will load as expected.