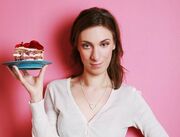 Agnieszka Drotkiewicz, 1981. szeptember 14-én született, írónő, kultúrakutató. 2005-ben a budapesti Európai Elsőkönyvesek Fesztiváljának lengyel vendége Paris London Dachau című regényével. (Részlet a könyvből a Lettre 2005. tavaszi számában.)
Megjelent művei:
Jeszcze dzisiaj nie usiadłam (2011; beszélgetések írónőkkel)
Daleko od Wichrowych Wzgórz (2010; szerkesztő-társszerző)
Teraz (2009; regény)
Głośniej! Pisarki o sobie ( 2006; beszélgetések írónőkkel, Anna Dziewittel közösen)
Dla mnie to samo (2006; regény)
Paris London Dachau (2004; regény)
Ad blocker interference detected!
Wikia is a free-to-use site that makes money from advertising. We have a modified experience for viewers using ad blockers

Wikia is not accessible if you've made further modifications. Remove the custom ad blocker rule(s) and the page will load as expected.