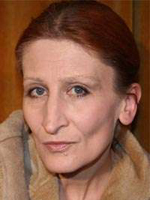 Anna Bojarska, álnevén Juliusz Nemo, 1946. október 1-jén született Varsóban, író, esszéista, színpadi művek és forgatókönyvek szerzője. 14 évesen kezdett írni, csak 15 éves volt, mikor megkezdte tanulmányait a Varsói Egyetem filozófia szakán, később újságíróként dolgozott. Párizsban él. Húga, Maria Bojarska szintén író.
Megjelent művei:
Kozzmoss! (regény, 2004)
Zastrzelony jadłospis, czyli trochę mitologii polskiej (regény, 2004)
Bóg pali cygara (regény, 2004)
List otwarty do królowej Wiktorii (regény, 2001)
Urban (Jerzy Urban életrajza, 1998)
Czego nauczył mnie August (regény, 1995)
Siostry B (visszaemlékezések, Maria Bojarskával közösen, 1995)
Biedny Oscar czyli Dwa razy o miłości (regény, 1992)
Meeting (dráma, 1992)
Modrzejewska: opowieść filmowa (filmregény, 1990)
Pięć śmierci (skiccek, 1990)
Chluba lunaparku (regény, 1988)
Lekcja polskiego (dráma, elsőként Andrzej Wajda rendezte meg, 1988)
Madonna Pekaesów czyli wyznania czytelnika-samicy (regény, 1988)
Agitka (regény, szamizdatkiadás: 1987; 1990)
Śmierć "Ognia" (Józef Kuraś (Ogień) életrajza Juliusz Nemo álnéven, 1984)
Ja (regény, 1984)
Lakier (regény, 1979)
Stulecie obłoków (elbeszélések, 1970)
Ad blocker interference detected!
Wikia is a free-to-use site that makes money from advertising. We have a modified experience for viewers using ad blockers

Wikia is not accessible if you've made further modifications. Remove the custom ad blocker rule(s) and the page will load as expected.