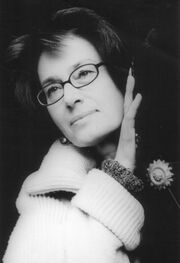 Anna Bolecka, 1951-ben született, írónő.
Regényei:
Cadyk i dziewczyna (2012)
Uwiedzeni (2009)
Concerto d'amore (2004)
Latawce (ifjúsági regény; 2002)
Kochany Franz (1999)
Biały kamień (1994)
Leć do nieba (1989)
"Az éretlenség kora" a Jelenkor 2010-es lengyel összeállításában
Ad blocker interference detected!
Wikia is a free-to-use site that makes money from advertising. We have a modified experience for viewers using ad blockers

Wikia is not accessible if you've made further modifications. Remove the custom ad blocker rule(s) and the page will load as expected.