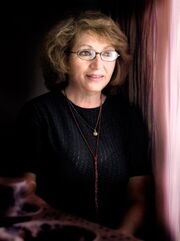 Anna Frajlich-Zając, 1942. március 10-én született Kirgizisztánban, költő, prózaíró, irodalmár. 1969 óta az Egyesült Államokban él.
Megjelent művei:
Znów szuka mnie wiatr (2001)
W słońcu listopada (2000)
Ogrodem i ogrodzeniem (1993)
Jeszcze w drodze (1994)
Indian Summer (1982)
Który las (1986)
Tylko ziemia (1979)
Ad blocker interference detected!
Wikia is a free-to-use site that makes money from advertising. We have a modified experience for viewers using ad blockers

Wikia is not accessible if you've made further modifications. Remove the custom ad blocker rule(s) and the page will load as expected.