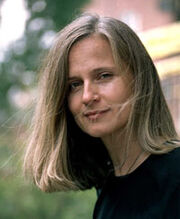 Anna Janko, 1957. augusztus 27-én született Rybnikben, költő, író, irodalomkritikus. Pasja według św. Hanki  cimű regényéért Nike-dijra jelölték.
Verseskötetei:
Wiersze z cieniem (2010)
Świetlisty cudzoziemiec (2000)
Zabici czasem długo stoją (1995)
Koronki na rany (1989)
Diabłu świeca (1980)
Wykluwa się staruszka (1979)
List do królika doświadczalnego (1977)
Önéletrajzi ihletettségű regénye:
Pasja według św. Hanki (2012)
Dziewczyna z zapałkami (2007)
Ad blocker interference detected!
Wikia is a free-to-use site that makes money from advertising. We have a modified experience for viewers using ad blockers

Wikia is not accessible if you've made further modifications. Remove the custom ad blocker rule(s) and the page will load as expected.