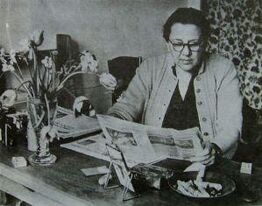 Anna Kowalska, 1903. március 26-án született Lviv városában, 1969. március 7-én hunyt el Varsóban, író. Számos szépirodalmi műve mellett Lengyelországban naplói is megjelentek.
Magyarul megjelent művei:
Rés. Fejér Irén ford. Budapest: Európa, 1970. (Modern könyvtár-sorozat, kisregény és elbeszélések)
A torony. Fejér Irén ford. In: Nagyvilág, 1966/11.
Oltárok. Fejér Irén ford. In: Mai lengyel elbeszélők. Vál., utószó és jegyz. Kerényi Grácia; ford. Bába Mihály et.al. Budapest: Európa, 1965. (Dekameron-sorozat)
Ad blocker interference detected!
Wikia is a free-to-use site that makes money from advertising. We have a modified experience for viewers using ad blockers

Wikia is not accessible if you've made further modifications. Remove the custom ad blocker rule(s) and the page will load as expected.