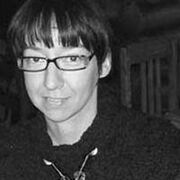 Anna Sójka-Leszczyńska, 1968-ban született, Poznańban él; gyerek- és ifjúsági könyvek szerzője, szerkesztő. 1990-ben debütált gyerekeknek írt limerickgyűjteményével. Együttműködik a Świerszczyk és a Miś című gyereklapokkal.
Néhány megjelent műve:
Szkoła Czarownic im. Hermenegildy Pokręconej (2010)
Czytam od A do Z (1999)
Dom pełen smoków (1999)
Limeryki o zwierzątkach (1990)
Ad blocker interference detected!
Wikia is a free-to-use site that makes money from advertising. We have a modified experience for viewers using ad blockers

Wikia is not accessible if you've made further modifications. Remove the custom ad blocker rule(s) and the page will load as expected.