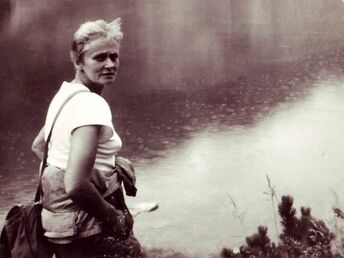 Barbara Skarga, 1919. október 25-én született Varsóban, 2009. szeptember 18-án hunyt el Olsztynban, filozófiatörténész, filozófus. A Honi Hadsereg összekötője volt Vilniusban, 1944-ben fogták el az oroszok, 11 évet töltött a Gulágon, melyről Po wyzwoleniu... című könyvében számolt be. Az Etyka című lap főszerkesztője volt.
Néhány megjelent műve:
Tercet metafizyczny (2009)
Człowiek to nie jest piękne zwierzę (2007)
Kwintet metafizyczny (2005)
Ślad i obecność (2002)
Tożsamość i różnica. Eseje metafizyczne (1997)
Granice historyczności (1989)
Przeszłość i interpretacje (1987)
Po wyzwoleniu 1944-1956 (1985)
Czas i trwanie. Studia nad Bergsonem (1982)
Kłopoty intelektu. Między Comte'em a Bergsonem (1975)
Narodziny pozytywizmu polskiego 1831-1864 (1964)
Ad blocker interference detected!
Wikia is a free-to-use site that makes money from advertising. We have a modified experience for viewers using ad blockers

Wikia is not accessible if you've made further modifications. Remove the custom ad blocker rule(s) and the page will load as expected.