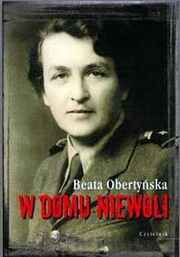 Beata Obertyńska, álnevén Marta Rudzka vagy Rahm Tilly, 1898. július 18-án született a mai Ukrajna területén, 1980. május 21-én hunyt el Londonban, költő, író. Maryla Wolska lánya. Gyerek- és ifjúkorát Lembergben töltötte, a Skamander és a képzőművész húga otthonában kialakult művészeti csoportokhoz kötődött. 1924-ben debütélt költőként, 1933-37 között színésznő Lemberg színpadain. 1940-ben letartóztatta az NKVD, Kijeven, Odesszán és Harkovon keresztül került a Gulágra. Szabadulása után csatlakozott Anders hadseregéhez, utasításra írta meg megemlékezéseit Marta Rudzka álnéven Johannesburgban, melyek 1946-ban jelentek meg W domu niewoli címen. A háború után Londonban telepedett le.
Verseskötetei:
Liryki najpiękniejsze (1999)
Skrząca libella (1991)
Grudki kadzidła (1987)
Betlejemski zajazd (1986)
Wiersze wybrane (1983)
Perły – wiersze (1980)
Anioł w knajpie (1977)
Miód i piołun (1972)
Otawa. Wiersze dawne i nowe (1945)
Głóg przydrożny (1932)
Klonowe motyle (1932)
O Braciach Mroźnych sen kalendarzowy (1930)
Pszczoły w słoneczniku (1927)
Elbeszélő költeménye:
Ballada o chorym księżycu (1959)
Prózai művei:
Oamô (2001; elbeszélések)
Skarb Eulenburga (1987-1988; regény)
Wspomnienia (1974; visszaemlékezések)
Ziarnka piasku (1957; elbeszélések)
W domu niewoli (1946; visszaemlékezések)
Faustyna: Opowieść (1943; regény)
Gitara i tamci (1926; regény)
Ad blocker interference detected!
Wikia is a free-to-use site that makes money from advertising. We have a modified experience for viewers using ad blockers

Wikia is not accessible if you've made further modifications. Remove the custom ad blocker rule(s) and the page will load as expected.