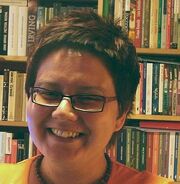 Bernadetta Darska, 1978-ban született, irodalomkritikus, könyveiben többek között a lengyel feminista sajtóval foglalkozik.
Megjelent művei:
Głosy Kobiet. Prasa feministyczna po roku 1989 wobec tożsamości i dyskursu, Olsztyn 2009.
Czas Fem. Przewodnik po prasie feministycznej i tematach kobiecych w czasopismach kulturalnych po 1989 roku, Olsztyn 2008.
Ucieczki i powroty. Obrazy rzeczywistości w prozie najnowszej, Olsztyn 2006. (többek között Ewa Schillingről)
Ad blocker interference detected!
Wikia is a free-to-use site that makes money from advertising. We have a modified experience for viewers using ad blockers

Wikia is not accessible if you've made further modifications. Remove the custom ad blocker rule(s) and the page will load as expected.