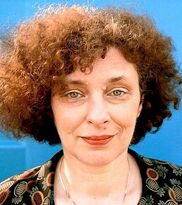 Bożena Umińska-Keff, 1948-ban született Varsóban, újságíró, irodalmár, filmkritikus, műfordító, költő, drámaíró, aktivista.
Legfontosabb művei:
Utwór o matce i ojczyźnie. Kraków: Korporacja Ha!art, 2008. (dráma)
Homofobia po polsku (red. Zbyszek Sypniewski i Błażej Warkocki), Warszawa: Sic!, 2004. (társzerző)
Postać z cieniem. Portrety Żydówek w polskiej literaturze. Warszawa: Sic!, 2001.
Ad blocker interference detected!
Wikia is a free-to-use site that makes money from advertising. We have a modified experience for viewers using ad blockers

Wikia is not accessible if you've made further modifications. Remove the custom ad blocker rule(s) and the page will load as expected.