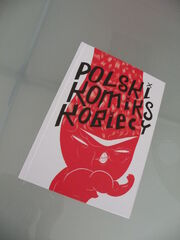 A lengyel női képregényről megjelent két legfontosabb antológia:
Double Portrait - Polish Female Comics. Centrala, 2012.
Kinga Kuczyńska, Polski komis kobiecy. timof i cisi spólnicy, 2012.
A téma legfontosabb portálja a comixgrrrlz.pl/.
Pages in category "Képregény"
The following 4 pages are in this category, out of 4 total.
Ad blocker interference detected!
Wikia is a free-to-use site that makes money from advertising. We have a modified experience for viewers using ad blockers

Wikia is not accessible if you've made further modifications. Remove the custom ad blocker rule(s) and the page will load as expected.