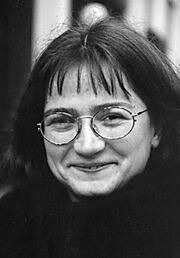 Elżbieta Adamiak, 1964-ben született, feminista teológus, az Adam Mickiewicz Egyetem munkatársa, rendszeresen dolgozik a Tygodnik Powszechny részére. Disszertációját Mária Catharina Halkes feminista teológiájában betöltött szerepéről írta.

Megjelent művei:
Kobiety w Biblii. Nowy Testament (2010)
Kobiety w Biblii. Stary Testament (2006)
Traktat o Maryi w: Traktat o Maryi. Traktat o Kościele (Marcin Czaja együttműködésével; 2006)
Mariologia (2003)
Milcząca obecność (1999)
Spotkania z Maryją: komentarz do uroczystości i świąt maryjnych (1998)
Błogosławiona między niewiastami. Maryja w feministycznej teologii Cathariny Halkes (1997)
A szerzőről a Wielkopolski Słownik Pisarek wikián (lengyel nyelven)
Ad blocker interference detected!
Wikia is a free-to-use site that makes money from advertising. We have a modified experience for viewers using ad blockers

Wikia is not accessible if you've made further modifications. Remove the custom ad blocker rule(s) and the page will load as expected.