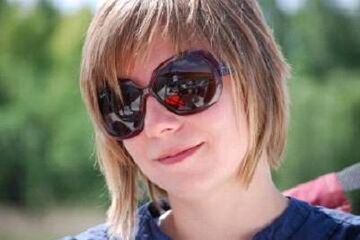 Elżbieta Chowaniec, 1982-ben született Krakkóban, drámaíró. Forgatókönyvírást, dramaturgiát tanult, filmes újságírással is foglalkozik, rendezőasszisztens, elvégezte Tadeusz Słobodzianek "Drámalaboratórium" kurzusát. Gardénia című darabját 2010. november 28-án mutatta be Pelsőczy Réka rendezésében a budapesti Merlin (felolvasószínházi előadás), a pozsonyi HomoDram játssza Rakottyay Katalin rendezésében a dráma alapján készült Anyád! című darabot. 2013-ban a temesvári Csiky Gergely Színház vendégjátékaként érkezett a darab ismét Budapestre.
Magyarul megjelent műve:
Gardénia. Pászt Patrícia ford. In: Fiatal lengyel dráma. Pozsony: Kalligram, 2010.
Ad blocker interference detected!
Wikia is a free-to-use site that makes money from advertising. We have a modified experience for viewers using ad blockers

Wikia is not accessible if you've made further modifications. Remove the custom ad blocker rule(s) and the page will load as expected.