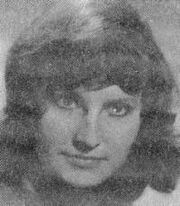 Ewa Filipczuk
, 1951-ben született Łódźban, költő. 1968-ban debütált az
Odgłosy
című lap hasábjain.
Megjelent kötetei:
Sieć (2003)
Sen dla bezsennych (2003)
Klucz (1999)
Paryska sukienka (1992)
Hotele, pokoiki małe (1989)
Czekam na ciebie w ciemnościach (1986)
Cafe Chaos (1980)
Gra (1977)
Magyarul megjelent művei:
A könnyek íze; Cafe Gerbaud; Párizs. Cséby Géza ford. In: Somogy, 1988/4. 73-74.o.
Égbolt; Szophoklész: Kierkegaard nyomán; xxx. Kovács István ford. In: Somogy, 1987/2. 74-75.o.
Ad blocker interference detected!
Wikia is a free-to-use site that makes money from advertising. We have a modified experience for viewers using ad blockers

Wikia is not accessible if you've made further modifications. Remove the custom ad blocker rule(s) and the page will load as expected.