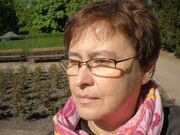 Ewa Kraskowska, 1954-ben született, elsősorban 20. századi irodalommal és irodalomelmélettel foglalkozó irodalmár, időnként angolból fordít kortárs prózát, a poznani Adam Mickiewicz Egyetem Feminista Kritikai Műhelyének alapítója.
Megjelent művei:
Czytelnik jako kobieta. Wokół literatury i teorii (2007)
Siostry Brontë (2006)
Piórem niewieścim. Z problemów prozy kobiecej dwudziestolecia międzywojennego (1999, 2003)
Zofia Nałkowska (1999)
Twórczość Stefana Themersona. Dwujęzyczność a literatura (1989)
Ad blocker interference detected!
Wikia is a free-to-use site that makes money from advertising. We have a modified experience for viewers using ad blockers

Wikia is not accessible if you've made further modifications. Remove the custom ad blocker rule(s) and the page will load as expected.