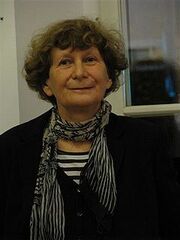 Ewa Kuryluk, 1946. május 5-én született Krakkóban, művészettörténész, festő, költő, író. Párizsban és Varsóban él.
Irodalmi művei:
Frascati. Kraków: Wydawnictwo Literackie, 2009. (regény)
Goldi. Apoteoza zwierzaczkowatości. Twój Styl, 2004. (regény)
Encyklopedioerotyk. Warszawa: Sic!, 2001. (regény)
Grand Hotel Oriental. Warszawa: W.A.B., 1997. (regény)
Century 21. Dalkey Archive Press 1992, 1993. (regény; lengyel fordításban legutóbb: Wiek 21. Trio dla ukrytych. Twój Styl, 2005.)
Pani Anima. Wiersze z lat 1975-1979. Kraków: Wydawnictwo Literackie, 1984. (versek)
A kellemes apokalipszis: Gustav Klimt* c. esszéje a Balkon 2004. júniusi számában
Nánay Fanni Kuryluk retrospektív kiállításáról a Balkon 2003. májusi számában
Hitler bécsi háttere c. esszéje a Balkon 2000. szeptemberi számában A szerző hivatalos oldala
Ad blocker interference detected!
Wikia is a free-to-use site that makes money from advertising. We have a modified experience for viewers using ad blockers

Wikia is not accessible if you've made further modifications. Remove the custom ad blocker rule(s) and the page will load as expected.