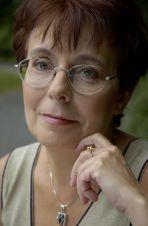 Grażyna Bąkiewicz, 1955-ben született Łódźban, elsősorban gyerekíró. 1985-ben debütált, mikor meséjével díjat nyert egy pályázaton, első regénye, az O melba 2002-ben az év könyve lett az IBBY versenyén.
Megjelent művei:
Ada strażniczka skarbu Wydawnictwo Literatura, 2010 (ifjúsági)
Bajki dla dorosłych, MG, 2009 (felnőtteknek)
Muchy w butelce Nasza Księgarnia, 2008 (ifjúsági)
Coś za coś, Prószyński i S-ka, 2007 (felnőtteknek)
Opowieść z perłą w tle, Prószyński i S-ka, 2006 (felnőtteknek)
Będę u Klary Prószyński i S-ka, 2005 (ifjúsági)
Korniszonek, Ezop, 2004 (gyerekirodalom)
Stan podgorączkowy, Prószyński i S-ka, 2003 (ifjúsági)
O melba, Prószyński i S-ka, 2002 (ifjúsági)
Ad blocker interference detected!
Wikia is a free-to-use site that makes money from advertising. We have a modified experience for viewers using ad blockers

Wikia is not accessible if you've made further modifications. Remove the custom ad blocker rule(s) and the page will load as expected.