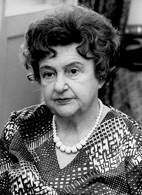 Halina Auderska, 1904. július 3-án született Odesszában, 2000. február 21-én hunyt el Varsóban, színpadi művek, rádiójátékok, filmforgatókönyvek és prózai művek szerzője, lexikográfus. 1924-ben debütált rádiójátékaival, első regénye 1935-ben jelent meg; a második világháborút megelőzően középiskolai tanárként dolgozott. A háború idején ápolónőként dolgozott Varsóban, egyidejűleg az AK katonája volt, részt vett a varsói felkelésben. A világháború után elsősorban szerkesztőként dolgozott, előbb egy könyvkiadónál, majd a Dialog folyóiratnál, végül a lengyel nagyszótár létrehozásában. A Związek Literatów Polskich első elnöke, a nyolcvanas években parlamenti képviselő.
Magyarul megjelent műve:
Gránátalma (regényrészlet), Gimes Romána ford. In: Lengyelország, 1976/4, 42-43.
Ad blocker interference detected!
Wikia is a free-to-use site that makes money from advertising. We have a modified experience for viewers using ad blockers

Wikia is not accessible if you've made further modifications. Remove the custom ad blocker rule(s) and the page will load as expected.