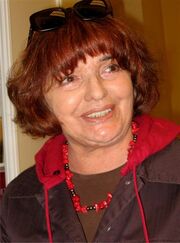 Hanna Krall-Szperkowicz, 1935. május 20-án született Varsóban, írónő és újságíró.
Megjelent művei:
Biała Maria (2011)
Różowe strusie pióra (2009)
Żal (2007)
Król kier znów na wylocie (2006)
Spokojne niedzielne popołudnie (2004)
Wyjątkowo długa linia (2004)
To ty jesteś Daniel (2001)
Tam już nie ma żadnej rzeki (1998)
Dowody na istnienie (1995)
Co się stało z naszą bajką (1994)
Taniec na cudzym weselu (1993)
Hipnoza (1989)
Trudności ze wstawaniem (1988)
Okna (1987)
Sublokatorka (1985)
Sześć odcieni bieli (1978)
Zdążyć przed Panem Bogiem (1977)
Na wschód od Arbatu (1972)
Magyarul megjelent művei:
Egy lépéssel az Úristen előtt. Gimes Romána ford. Budapest: Európa, 1981. (2. kiadás, 2003)
A fenyőfa a Magyar Lettre Internationale 1997-es lengyel összeállításában
Ad blocker interference detected!
Wikia is a free-to-use site that makes money from advertising. We have a modified experience for viewers using ad blockers

Wikia is not accessible if you've made further modifications. Remove the custom ad blocker rule(s) and the page will load as expected.