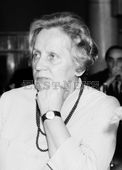 Hanna Ożogowska, 1904. július 20-án született Varsóban, 1995. április 26-án hunyt el ugyanott, író, költő, műfordító (orosz, német és olasz nyelvből). A Płomyk című gyereklapban debütált, melynek a háború után szerkesztője is lett. Az Egy lány meg egy fiú című regényéből készült tévésorozatot a Magyar Televízió is játszotta a hetvenes években.
Megjelent művei:
Piórko do pióreczka (1989)
Druga klasa - fajna klasa! (1989)
Lusterko dla każdej dziewczyny (1987)
Entliczki pentliczki (1983)
Przygody Scyzoryka (1980)
Za minutę pierwsza miłość (1972)
Koleżanki (1971)
Głowa na tranzystorach (1968)
Ucho od śledzia (1964)
Raz, gdy chciałem być szlachetny (1963)
Dziewczyna i chłopak, czyli heca na 14 fajerek (1961)
Chłopak na opak czyli Z pamiętnika pechowego Jacka (1960)
Scyzoryk i koledzy (1960)
O królewnie, która bała się, że jej korona z głowy spadnie (1960)
Tajemnica zielonej pieczęci (1959)
Złota kula (1957)
Marcinkowe wierszyki (1957)
Malowany wózek (1957)
Bajka o kłosku pszenicy (1955)
W Marcelkowej klasie (1955)
Nową drogą przez nowy most (1953)
Swoimi słowami (1952)
Na Karolewskiej (1951)
Uczniowie III klasy (1950)
O ślimaku, co pierogów z serem szukał (1950)
Magyarul megjelent műve:
Egy lány meg egy fiú: regény. Mészáros István ford. Budapest: Móra, 1963.
Ad blocker interference detected!
Wikia is a free-to-use site that makes money from advertising. We have a modified experience for viewers using ad blockers

Wikia is not accessible if you've made further modifications. Remove the custom ad blocker rule(s) and the page will load as expected.