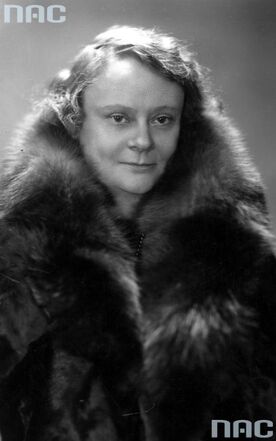 Helena Boguszewska, 1886. október 18-án született Varsóban, 1978. november 11-én hunyt el ugyanott, írónő. 1909-10-ben debütált a Płomyk és a Płomyczek című gyereklapokban rövid írásaival. A huszas években újságíróként is dolgozott, elsősorban a szegény gyerekek és a rokkantak ügyét karolta fel, valamint az oktatással foglalkozott. 1932-ben jelent meg első könyve.
Magyarul megjelent műve:
Dzierlacki Danusia. Kemény Ferenc ford. In: Mai lengyel elbeszélők. Budapest: Szépirodalmi Könyvkiadó, 1952. 128-140.
Ad blocker interference detected!
Wikia is a free-to-use site that makes money from advertising. We have a modified experience for viewers using ad blockers

Wikia is not accessible if you've made further modifications. Remove the custom ad blocker rule(s) and the page will load as expected.