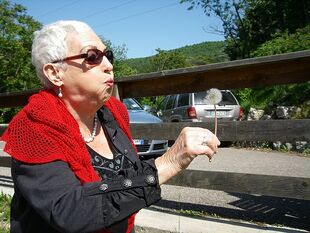 Irit Amiel, szül. Irena Librowicz, 1931. május 5-én született Częstochowa városában, lengyel származású izraeli író, költő és műfordító. Családja a 16. század óta élt lengyel területeken, ahová valószínűleg Portugáliából, német földön keresztül érkeztek. A II. világháború idején árja papírokkal jutott ki a częstochowai gettóból és lengyelek segítségével élte túl a háborút; egész családja Treblinkában vesztette életét. 1947-ben, illegális úton érkezett fiatalok egy csoportjával Palesztínába. Héberre fordította többek között Henryk Grynberg, Hanna Krall és Wisława Szymborska műveit; héberről lengyelre többek között izraeli kortárs költők műveit. Osmaleni című elbeszéléskötetét 2000-ben Nike-díjra jelölték.
Lengyelül megjelent művei:
Podwójny krajobraz (2008; elbeszélések)
Wdychać głęboko (2002; versek)
Osmaleni (1999; elbeszélések)
Nie zdążyłam (1998; versek)
Egzamin z Zagłady (1994, 1998; versek)
Magyarul megjelent műve:
Megperzseltek. Hermann Péter ford. Budapest: Poligráf, 2002.
Részlet a könyvből a Hetek folyóiratban
Ad blocker interference detected!
Wikia is a free-to-use site that makes money from advertising. We have a modified experience for viewers using ad blockers

Wikia is not accessible if you've made further modifications. Remove the custom ad blocker rule(s) and the page will load as expected.