'
Izabela Czartoryska, '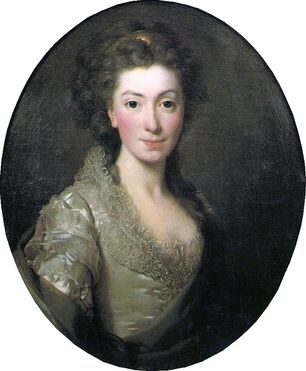 Elżbieta Dorota z Flemmingów Czartoryska, 1746. március 3-án született Varsóban, 1835. június 17-én hunyt el Wysockoban, író, mecénás. Adam Kazimierz Czartoryski herceg felesége, lánya, 
Maria Wirtemberska
szintén írónő. Visszaemlékezések, versek, moralitással foglalkozó könyvek kötődnek a nevéhez, de ő a szerzője múzeumi gyűjteménye katalógusainak is; (ebből a kollekcióból származik a 19. század végén alapított krakkói Czartoryski Múzeum büszkesége, Leonardo da Vinci Hermelines hölgye is). Elsősorban a szentimentalizmushoz kötődött, nem fogadta el a klasszicizmust. Idős korában politikai és patrióta tevékenységet is folytatott. Meglehetősen szabados erkölcsei a korban ugyan elfogadhatóak voltak mind a köz, mind szintén meglehetősen szabados férje számára, de később nem kevés gondot okoztak számos gyermekének, akik között olyanok is akadtak, akik származásukról nem tudva kis híján eljegyezték egymást. Legtöbb műve halálakor kéziratban maradt, jelentős részüket máig nem adták ki.
Megjelent művei:
Correspondance inédite d'Isabelle Czartoryska avec J. C. Lavater (1970)
Dyliżansem przez Śląsk: Dziennik podróży do Cieplic w roku 1816 (1968)
Listy z hr. Flemingów księżny Izabelli Czartoryskiej do starszego syna swego księcia Adama (1887)
Korepondencya księżny Izabelli Czartoryskiéj z poetą Delille'm (1887)
Poczet pamiątek zachowanych w Domu Gotyckim w Puławach (1828)
Katalog Sybilli (1827)
Pielgrzym w Dobromilu, część druga, czyli dalszy ciąg nauk wiejskich z dziesięcią obrazkami i muzyką (1821)
Pielgrzym w Dobromilu czyli nauki wiejskie z dodatkiem powieści i 40 obrazkami (1819)
Książka do pacierzy dla dzieci wiejskich podczas Mszy Świętej dla szkółki puławskiej napisana (1815)
Myśli różne o sposobie zakładania ogrodów (1805)
Ad blocker interference detected!
Wikia is a free-to-use site that makes money from advertising. We have a modified experience for viewers using ad blockers

Wikia is not accessible if you've made further modifications. Remove the custom ad blocker rule(s) and the page will load as expected.