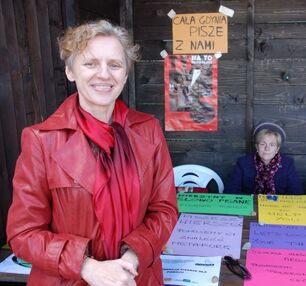 Izabela Filipiak, 1961. augusztus 24-én született Gdynia városában, író, esszéista, kultúrkritikus. Az egyik első a lengyel író, aki nyíltan felvállalta leszbikusságát.
Megjelent művei:
Obszary odmienności. Rzecz o Marii Komornickiej (2007)
Magiczne oko. Opowiadania zebrane (2006; összegyűjtött elbeszélések)
Księga Em (2005; dráma - Maria Komornicka élete alapján)
Kultura obrażonych (2003)
Alma (2003; regény)
Madame Intuita (2002; versek)
Twórcze pisanie dla młodych panien (1999; kreatív írás - tankönyv-esszé)
Niebieska menażeria (1997; elbeszélések)
Absolutna amnezja (1995; regény)
Śmierć i spirala (1992; elbeszélések)
Madame Intuita - részletek a KéMCsoport blogján
Ad blocker interference detected!
Wikia is a free-to-use site that makes money from advertising. We have a modified experience for viewers using ad blockers

Wikia is not accessible if you've made further modifications. Remove the custom ad blocker rule(s) and the page will load as expected.