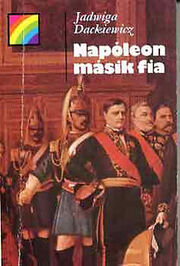 Jadwiga Dackiewicz, 1920. március 6-án született Varsóban, 2003. október 25-én hunyt el ugyanott; esszéista, prózaíró, műfordító (francia nyelvből). 1948-ban debütált francia nyelvből készített versfordításaival, életrajzi műveihez szinte kizárólag francia forrásokat használt fel, ezért híres a lengyel olvasók számára felismerhetetlen megnevezésekről.
Megjelent művei:
Faworyty władców Francji (1983)
W gnieździe Bonapartych (1983)
Generał i muzy (1978)
Romantyczni w Italii (1978)
'Synowie Napoleona - Aleksander Walewski (1978)
'Synowie Napoleona - 'Książę Reichstadtu - Napoleon II (1976)
Sobiescy w zamkach nad Loarą (1974)
O Francji, o tęsknocie, czyli każdy kochał inaczej (1974)
Belwederczyk w Paryżu (1973)
Paryż zdradzony czyli Izabela Czartoryska (1971)
Luwr (1970)
W romantycznym Paryżu (1966)
Odmiany miłości (1962)
Magyarul megjelent művei:
A Sasfiók. Nemere István ford. Budapest: Kossuth, 1987.
Napóleon második fia. Nemere István ford. Budapest: Kossuth, 1982.
Ad blocker interference detected!
Wikia is a free-to-use site that makes money from advertising. We have a modified experience for viewers using ad blockers

Wikia is not accessible if you've made further modifications. Remove the custom ad blocker rule(s) and the page will load as expected.