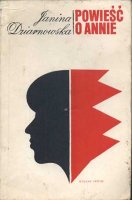 Janina Dziarnowska, 1903-ban született a Donyeci-medence területén, 1992-ben hunyt el, író, műfordító, riporter, újságíró. A huszas évektől pedagógusként dolgozott, a második világháború idején a megszállt Varsóban maradva szervezte a fiatalok oktatását. 1936-tól a kommunista párt tagja, a háború után is aktívan részt vett a társadalmi életben, művei a szocreál irányzatot képviselik.
Lengyelül megjelent művei:
Słowo o Brunonie Jasieńskim (1978)
Gdy spada lawina
Gdy inni dziećmi są (1960)
Miasto nowych ludzi (1954)
Jesteśmy z Nowej Huty (1951)
Powieść o Annie (1950)
Magyarul megjelent műve:
Anna útja: regény. Mészáros István ford. Budapest: Szépirodalmi Kiadó, 1952.
Ad blocker interference detected!
Wikia is a free-to-use site that makes money from advertising. We have a modified experience for viewers using ad blockers

Wikia is not accessible if you've made further modifications. Remove the custom ad blocker rule(s) and the page will load as expected.