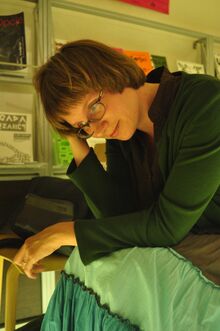 Joanna Mueller-Liczner, 1979-ben született Piłában, költő, irodalmár, irodalomkritikus. A Varsói Egyetem lengyel szakán szerzett diplomát, majd doktori fokozatot. Maria Cyranowicz mellett a Manifest neolingwistyczny egyik aláírója és a Solistki című női költészeti antológia egyik szerkesztője. 2008-ban Gdynia város irodalmi díjára jelölték Zagniazdowniki/Gniazdowniki című kötetéért. 2014-ben a visegrádi FISZ-tábor első ízben megrendezett lengyel-magyar műfordító műhelyének vendége.
Megjelent kötetei:
intima thule, 2015
Wylinki, 2010
Zagniazdowniki/Gniazdowniki, 2007
Somnambóle fantomowe, 2003
Elméleti és kritikai munkái:
Powlekać rosnące, 2013
Stratygrafie, 2010
Versei a SZIFonline portálon, Karaba Márta Alexandra fordításában
Versei az Ambroozián, Karaba Márta Alexandra fordításában
Szerzői profilja a literackie.pl portálon
Ad blocker interference detected!
Wikia is a free-to-use site that makes money from advertising. We have a modified experience for viewers using ad blockers

Wikia is not accessible if you've made further modifications. Remove the custom ad blocker rule(s) and the page will load as expected.