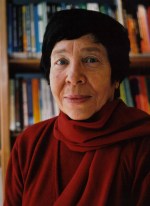 Joanna Olczak-Ronikier, 1934. november 12-én született Varsóban, író és színpadi szerző, a Piwnica pod Baranami-kabaré egyik alapítója. A családja történetét elbeszélő W ogrodzie pamięci (Az emlékek kertjében) című könyvéért 2002-ben megkapta Nike-díjat; a könyvet angol, francia, héber, holland, svéd és olasz nyelvre fordították le, mely utóbbiért 2011-ben megkapta a Premio Acerbi-díjat.
Megjelent művei:
Korczak: próba biografii. Warszawa: W.A.B., 2011.
W ogrodzie pamięci. Kraków: Znak, 2001.
Piotr. Kraków: Wydawnictwo Literackie, 1998. (Piotr Skrzynecki életéről, Jolanta Drużyńska közreműködésével)
Piwnica Pod Baranami czyli koncert ambitnych samouków. Warszawa: Tenten, 1994. (monográfia)
Ad blocker interference detected!
Wikia is a free-to-use site that makes money from advertising. We have a modified experience for viewers using ad blockers

Wikia is not accessible if you've made further modifications. Remove the custom ad blocker rule(s) and the page will load as expected.