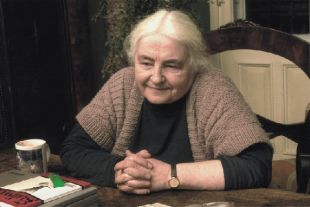 Joanna Papuzińska, 1939. január 3-án született Varsóban, irodalomkritikus, író, költő, elsősorban gyerekkönyvek szerzőjeként ismert. 1991-2002 között a gyerek- és ifjúsági irodalomnak szentelt Guliwer című lap főszerkesztője, számos szakmai rendezvény és konferencia szervezője, szakmai szervezetek (pl. IBBY) tagja. Számos könyvet jelentetett meg a gyerekirodalomról. 2014-ben irodalom kategóriában ő nyerte el a lengyel elnöki pár gyerekek és fiatalok számára alkotók részére első ízben átadott díját.
Néhány műve (ábécé szerint):
A gdzie ja się, biedniuteńki, podzieję?, 1972
Agnieszka opowiada bajkę, 1970, 2001
Bajka o smoku niewawelskim, 1987
Była sobie wronka, 2006
Chwilki dla Emilki, 2004
Czarna jama, 1984
Czarna łapa. Opowieść kolonijna, 1975, 2000
Czytania domowe, 1975
Darowane kreski, 1994
Gawęda o macierzanku, 2002
Ja, 1984
Jesienna przygoda, 1982
Limeryki i Inne Łódzkie Wierszyki, 2004
Lisek Maciuś, 1971
Mały księżyc i inne wiersze na noc, 2005
Nasza mama czarodziejka, 1968, 2007
Pims, którego nie ma, 1967, 2004
Placek zgody i pogody, 1985, 1999
Porzucony samochodzik, 2004
Pod bajdułem i inne wiersze, 2002
Rokiś. A gdzie ja się, biedniuteńki, podzieję, 1988, 2006
Rokiś i kraina dachów, 1984
Rokiś wraca, 1981
Skrzydlatek, 1998, 2002
Stare i nowe wierszyki domowe, 2001
Szumikraj, 1993
Ściana zaczarowana, 1969
Śniegowa przygoda, 1969
Śpiące wierszyki, 2005
Tygryski, 1966, 2006
Umiemy czytać (podręcznik), 1980
Uśmiechnięta planeta, 1980
Uśmiechnięte słowa, 1982
Wędrowcy, 1983, 2006
Wędrowne wierszyki, 1980
Wierszyki domowe, 1978
Tudományos művei:
Drukowaną ścieżką, 2001
Dziecko w świecie emocji literackich, 1996
Książki, dzieci, biblioteka. Z zagadnień upowszechniania czytelnictwa i książki dziecięcej, 1992
Zatopione królestwo. O polskiej literaturze fantastycznej XX wieku dla dzieci i młodzieży, 1989, 2008
Inicjacje literackie. Problemy pierwszych kontaktów dziecka z książką, 1975
Czytania domowe, 1975
Wychowawcza rola prasy dziecięcej, 1972
Ad blocker interference detected!
Wikia is a free-to-use site that makes money from advertising. We have a modified experience for viewers using ad blockers

Wikia is not accessible if you've made further modifications. Remove the custom ad blocker rule(s) and the page will load as expected.