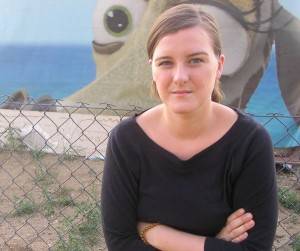 Joanna Pawluśkiewicz, 1975. április 17-én született Krakkóban, Varsóban él; elsősorban tévé- és filmprodukciók készítésében működik közre (pl. Nowe legendy miejskie), filmes alapítványt vezet, író. Filmes munkásságáról a 2009-ben megjelent Kino niezależne w Polsce 1989-2009. Historia mówiona (Kraków: ha!art) című kötetben olvashatunk. Két regénye mellett több elbeszélést publikált folyóiratban és antológiákban.
Megjelent művei:
Telenovela (2007)
Pani na domkach (2006)
Ad blocker interference detected!
Wikia is a free-to-use site that makes money from advertising. We have a modified experience for viewers using ad blockers

Wikia is not accessible if you've made further modifications. Remove the custom ad blocker rule(s) and the page will load as expected.