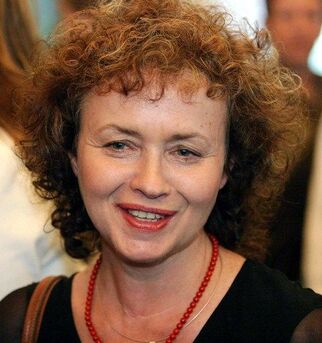 Joanna Szczepkowska, 1953. május 1-jén született Varsóban, színházi és filmszínész, pedagógus, író, tárcaíró - 1999 óta dolgozik együtt a Gazeta Wyborcza szombati női és/vagy feminista mellékleteként megjelenő Wysokie Obcasy-val.
Megjelent művei:
Dzisiaj nazywam się Charles (2010; versek)
4 czerwca (2009; regény)
Piasek ze szkła (2009; esszé)
Kocham Paula McCartneya (2008; regény)
Ludzie ulicy i inne owoce miłości (2006; versek)
Jak wyprostować koło (2006; publicisztika)
Goła baba. Monokomedia dla jednej aktorki. (2005; dráma)
Sześć minut przed czasem (2004; elbeszélések)
Fragmenty z życia lustra (2004; elbeszélések)
Ad blocker interference detected!
Wikia is a free-to-use site that makes money from advertising. We have a modified experience for viewers using ad blockers

Wikia is not accessible if you've made further modifications. Remove the custom ad blocker rule(s) and the page will load as expected.