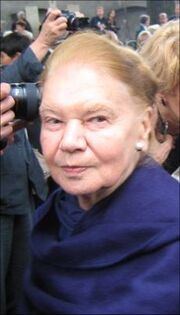 Julia Hartwig, 1921. augusztus 14-én született Lublinban, költő, esszéista, műfordító.
Magyarul megjelent művei:
Nők, kezdőknek és haladóknak - hét lengyel költőnő. Zsille Gábor ford. Budapest: Tipp-Cult / Parnasszus könyvek, 2003.
Apollinaire. Fejér Irén ford. Budapest: Palatinus, 2000.
Ad blocker interference detected!
Wikia is a free-to-use site that makes money from advertising. We have a modified experience for viewers using ad blockers

Wikia is not accessible if you've made further modifications. Remove the custom ad blocker rule(s) and the page will load as expected.