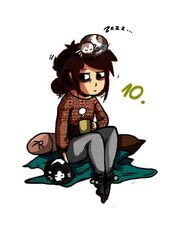 Katarzyna "Kiciputek" Babis, Lublinban végzi grafikusi tanulmányait, aktív grafikus és képregényes, szintén képregényes párjával szabadidejükben még tetoválószalont is üzemeltetnek. A Projekt Tequila keretében egy erős és független karakter létrehozásán dolgozik egy erőszakos és merész erotikával teli posztapokaliptikus világban - külön érdekesség, hogy a projekt sikeres crowdfunding akció keretében jöhetett létre.
Ad blocker interference detected!
Wikia is a free-to-use site that makes money from advertising. We have a modified experience for viewers using ad blockers

Wikia is not accessible if you've made further modifications. Remove the custom ad blocker rule(s) and the page will load as expected.