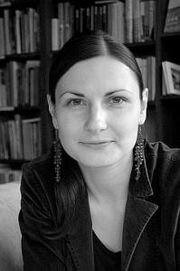 Katarzyna Sowula, 1977-ben született Tuchówban, többek között forgatókönyvírást is tanult, angol- és franciatanárként dolgozik, francia drámákat fordít, író. Nulla-nyolcszáz című elbeszéléskötete a JAK Világirodalmi sorozatában jelent meg, Keresztes Gáspár fordításában (Budapest: L'Harmattan, 2011); a műből színházi monológ is készült, melyet a TVP Kultura tűzött műsorára 2007-ben.
Megjelent művei:
Dzień Cukierka bez Papierka, czyli Ekozosia sprząta świat (2011; gyerek-/ifjúsági regény)
Zero Osiemset (2007; elbeszélések)
Fototerapia (2004; regény)
Magyarul megjelent részletek:
Nulla-nyolcszáz a L'Harmattan honlapján
Beszélgetés a szerzővel a Literán
Beszélgetés a szerzővel az mno.hu-n
Ad blocker interference detected!
Wikia is a free-to-use site that makes money from advertising. We have a modified experience for viewers using ad blockers

Wikia is not accessible if you've made further modifications. Remove the custom ad blocker rule(s) and the page will load as expected.