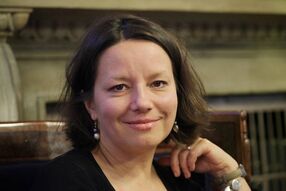 Katarzyna Surmiak-Domańska, 1967-ben született Olsztynban, újságíró, riporter. 1980-ban még színésznőként debütált a Janina Zającówna Heca z Łysym című regényéből készült Tylko Kaśka című sorozatban. 1995-től állandó munkatársa a Gazeta Wyborczának, ahol társadalmi témákat boncolgató riportjai és interjúi jelennek meg, 2010 óta a Polska Szkoła Reportażu (Lengyel Riportiskola) oktatója. Mokradełko című riportkötetéért 2013-ban Nike-díjra jelölték.
Megjelent kötetei:
Mokradełko

 (2012)

Żyletka (2011)
Beznadziejna ucieczka przed Basią - reportaże seksualne (2007)
Ad blocker interference detected!
Wikia is a free-to-use site that makes money from advertising. We have a modified experience for viewers using ad blockers

Wikia is not accessible if you've made further modifications. Remove the custom ad blocker rule(s) and the page will load as expected.