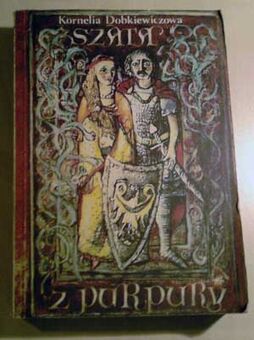 Kornelia Dobkiewiczowa, 1912. szeptember 1-jén született Szentpéterváron, 1990. július 5-én hunyt el Katowice városában, néprajzkutató, elsősorban ifjúsági és gyerekkönyvek szerzője.
Néhány megjelent műve:
Dolina Śpiewających Ptaków
Drogocenne wiano
Dukaty kupca Amadeja i inne baśnie
Haftowane trzewiczki
Karlikowy ganek: Legendy i podania o polskim srebrze
Miedziana lampa: Baśnie i opowieści o śląskim Skarbniku
Największy skarb: Powieść z czasów Mieszka I
O Marku Prawym z Jemielnicy
O Zofijce sierocie
Ofka z Kamiennej Góry
Pierścień księżniczki Gertrudy
Róże w błękitnym polu: Podania i opowieści o zamkach Dolnego Śląska
Rycerze kamiennego niedźwiedzia
Saga o białym krysztale: Baśnie i opowieści o małopolskiej soli
Srebrny pas: Opowieść o staropolskim srebrze
Szata z purpury
Szkarłatny rycerz: Podania i opowieści o zamkach śląskich
Sztolnia w Sowich Górach: Baśnie i opowieści z Ziemi Opolskiej, Beskidów i Dolnego Śląska
Ślężańska legenda
W grodach Słowian śląskich
Wężowa królewna: Baśnie i opowieści ze Śląska
Zamek nad Czarnym Jeziorem
Złote jarzmo
Zuzanka
Ad blocker interference detected!
Wikia is a free-to-use site that makes money from advertising. We have a modified experience for viewers using ad blockers

Wikia is not accessible if you've made further modifications. Remove the custom ad blocker rule(s) and the page will load as expected.