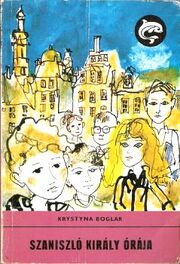 Krystyna Boglar, 1931. december 17-én született Krakkóban, író, költő, számos gyerekkönyv szerzője. 1966-ban debütált egy gyerekirodalmi folyóiratban; sokáig dolgozott a televízióban.
Magyarul megjelent művei:
Százlábúnak hívják. Gimes Romána ford. Budapest: Móra, 1989.
Szaniszló király órája. Cservenits Jolán ford. Budapest: Móra, 1977.
A gesztenyekirály története. Kerényi Grácia ford. Budapest: Móra, 1974.
Ad blocker interference detected!
Wikia is a free-to-use site that makes money from advertising. We have a modified experience for viewers using ad blockers

Wikia is not accessible if you've made further modifications. Remove the custom ad blocker rule(s) and the page will load as expected.