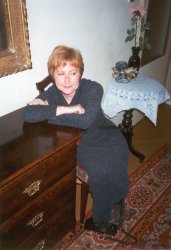 Krystyna Kłosińska, 1952-ben született Legnicában, feminista irodalomkritikus. Ciało, pożądanie, ubranie... című művét 2000-ben Nike-díj finalistái közé került.
Megjelent művei:
Feministyczna krytyka literacka (2010)
Miniatury: Czytanie i pisanie "kobiece" (2006)
Fantazmaty: Grabinski, Prus, Zapolska (2004)
Ciało, pożądanie, ubranie. O wczesnych powieściach Gabrieli Zapolskiej (1999)
Powieści o "wieku nerwowym" (1989)
Ad blocker interference detected!
Wikia is a free-to-use site that makes money from advertising. We have a modified experience for viewers using ad blockers

Wikia is not accessible if you've made further modifications. Remove the custom ad blocker rule(s) and the page will load as expected.