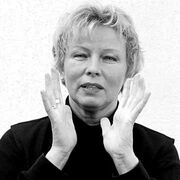 Krystyna Kofta, 1942. december 23-án született Poznań-ban, próza-, forgatókönyv- és tárcaíró. Legutóbb 2010-ben, Fausta címmel jelent meg regénye. Kisragadozók ketrece című könyvét Szenyán Erzsébet fordította a magyarra (a fordítás végül nem készült el - bővebben erről a Magyar Nemzet interjújában.) A Bal, a jobb visszaemlékezése c. monodrámáját 2011-ben mutatta be lengyel nyelven a Merlin Színház a főszerepben Teresa Stępień-Nowicka-val.
Ad blocker interference detected!
Wikia is a free-to-use site that makes money from advertising. We have a modified experience for viewers using ad blockers

Wikia is not accessible if you've made further modifications. Remove the custom ad blocker rule(s) and the page will load as expected.