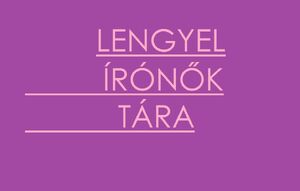 Üdv a Lengyel Írónők Tárában!Edit
Lengyel író-nők tára többek között a Wielkopolski Słownik Pisarek csapatával együttműködésben. Nagy irodalmi hagyomány elfeledett lapjai, megőrzött szerzők rejtekútjai, ifjú tehetségek és klasszikusok.
Lengyel + nő + irodalomEdit
Vagyis nem több, nem kevesebb, mint a lengyel nőirodalom, női irodalom, nők által művelt irodalom, és általában: nők által művelt írás szerzőinek életrajzi jegyzetecskéi és magyar nyelvű megjelenései.
Legutóbbi változások:
Edit
Ad blocker interference detected!
Wikia is a free-to-use site that makes money from advertising. We have a modified experience for viewers using ad blockers

Wikia is not accessible if you've made further modifications. Remove the custom ad blocker rule(s) and the page will load as expected.