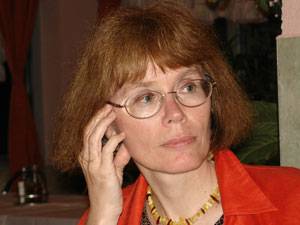 Liliana Bardijewska, 1955. május 15-én született Varsóban, elsősorban gyerekek számára írt színdarabokat, történeteket és rádiójátékokat, irodalom- és színikritikus emellett bolgár irodalmat fordít lengyelre. Többszörös IBBY-kitüntetett, Dom ośmiu tajemnic című könyvét 2006-ban az év könyvének választotta a szervezet.
Néhány megjelent műve:
Drobinka Śmieszynka, czyli przygody kropelki wody (2010)
Moja ciotka sroka (2009)
Niezwykła wędrówka Ślimaka Lazura (2008)
Dom ośmiu tajemnic (2006)
Zielony wędrowiec (2001)
Ad blocker interference detected!
Wikia is a free-to-use site that makes money from advertising. We have a modified experience for viewers using ad blockers

Wikia is not accessible if you've made further modifications. Remove the custom ad blocker rule(s) and the page will load as expected.