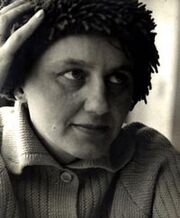 Małgorzata Hillar, valójában Janina Krystyna Helena Hillar, 1926. augusztus 19-én született Piesienica-ban és 1995. május 20-án hunyt el Varsóban, költőnő.
Verseskötetei:
Gotowość do zmartwychwstania (1995)
Poezje (1972)
Czekanie na Dawida (1967)
Krople słońca (1961)
Prośba do macierzanki (1959)
Gliniany dzbanek (1957)
Versei a Zempléni Múzsában (77-79.o.)
Ad blocker interference detected!
Wikia is a free-to-use site that makes money from advertising. We have a modified experience for viewers using ad blockers

Wikia is not accessible if you've made further modifications. Remove the custom ad blocker rule(s) and the page will load as expected.