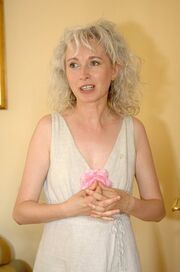 Manuela Gretkowska, 1964. október 6-án született Łódź-ban, író, forgatókönyv- és tárcaíró, társadalmi aktivista, a Partia Kobiet alapítója.
Megjelent művei:
Trans (2011)
Miłość po polsku (2010)
Obywatelka (2008)
Na dnie nieba (2007)
Kobieta i mężczyźni (2007)
Europejka (2004)
Sceny z życia pozamałżeńskiego (2003)
Polka (2001)
Silikon (2000)
Światowidz (1998)
Namiętnik (1998)
Podręcznik do ludzi (1996)
Kabaret metafizyczny (1994)
Tarot paryski (1993)
My zdies' emigranty (1991)
Magyarul megjelent művei:
Metafizikai kabaré. Nánay Fanni ford. Budapest: Európa, 2004.
Szenvedélynapló. Keresztes Gáspár, Pálfalvi Lajos ford. Budapest: Masszi, 2002.
Kézikönyv az emberekhez. Pálfalvi Lajos ford. Budapest: Palatinus, 2000.
Részlet a Párizsi tarot c. regényéből a Magyar Napló 2004-es lengyel összeállításában
Ad blocker interference detected!
Wikia is a free-to-use site that makes money from advertising. We have a modified experience for viewers using ad blockers

Wikia is not accessible if you've made further modifications. Remove the custom ad blocker rule(s) and the page will load as expected.