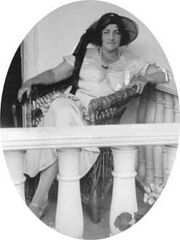 Maria Jadwiga Buyno-Arctowa, író álnevein Jagmin, Ciocia Mania, J. Brzostek, 1877. július 16-án született a Łódź közelében fekvő Brzeziny települések, 1952. június 13-án hunyt el a Sielcce mellett található Dobrzanówban, összesen 67 gyerek- és ifjúsági, valamint tudományos-fantasztikus mű szerzője, 1902-ben könyvet jelentetett meg Narcyza Żmichowska életéről és műveiről. Több gyereklap szerkesztésében is részt vesz 1902 és 1928 között. A cenzúra 1949-ben betiltja műveit, csak 1956 után kerülhetett vissza egy részük a polcokra.
Néhány megjelent műve:
Kotek w bocianim gnieździe (1947)
Figa (1939)
Złota Nić (1938)
Dziecko morza (1937)
Zielony szaleniec (1936)
Muzykanci podwórzowi (1935)
Na wakacjach w Zalesiu (1934)
Nasza maleńka (1933)
Serca i serduszka (1931)
Wyspa mędrców (1929-30)
Wieś Szczęśliwa (1929)
Cudowne dziecko (1927)
Fifinka czyli Awantura Arabska (1927)
Perły księżniczki Mai (1925)
Wilczysko (1924)
Koledzy (1923)
Rycerz złotego serduszka (1922)
Ojczyzna (1922)
Słoneczko (1920)
Kazia "Duża" (1919)
Grześ z Sanoka: Opowiadanie historyczne z czasów Władysława Jagiełły (Kraszewski nyomán; 1908)
Na wakacjach w Zalesiu (1906)
Kocia mama i jej przygody (1905)
Mysia norka (1902)
John Ruskin i jego poglądy (1901)
Ad blocker interference detected!
Wikia is a free-to-use site that makes money from advertising. We have a modified experience for viewers using ad blockers

Wikia is not accessible if you've made further modifications. Remove the custom ad blocker rule(s) and the page will load as expected.