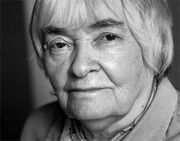 Maria Janion, 1926. december 24-én született Mońki-ban, eszme- és irodalomtörténettel, irodalomkritikával, elsősorban a romantikával foglalkozik; feminista.
Néhány megjelent műve:
Niesamowita Słowiańszczyzna: fantazmaty literatury. Kraków: Wydawnictwo Literackie, 2006.
Do Europy tak, ale razem z naszymi umarłymi. Warszawa: Sic!, 2000.
Płacz generała. Eseje o wojnie. Warszawa: Sic!, 1998.
Kobiety i duch inności. Warszawa: Sic!, 1996.
Gorączka romantyczna. Warszawa: PIW, 1975, új kiadás: Gdańsk: słowo/obraz terytoria, 2007.
Magyarul megjelent műve:
A vámpír : szimbolikus biográfia. Budapest: Európa, 2006.
Femme Fatale - részlet A vámpír c. monográfiából a Balkon 2005. márciusi számában
Sztavrogin, avagy lehet-e tragikus egy immoralista? c. esszéje az Ex Symposion 1999-es A gonosz banalitása című összeállításában
A romantikus paradigma alkonya c. esszé a Lettre 1997. őszi számában
Ad blocker interference detected!
Wikia is a free-to-use site that makes money from advertising. We have a modified experience for viewers using ad blockers

Wikia is not accessible if you've made further modifications. Remove the custom ad blocker rule(s) and the page will load as expected.