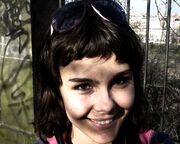 Marta Dzido, 1981. január 19-én született, Varsóban él, író, rendező, újságíró. Első regényét a lengyel irodalom "abortusz-coming outjának" tartják, a második regényéből készült színdarabot "M" címmel 2009-ben mutatták be. Matrjoska cimű irása Pálfalvi Lajos forditásában jelent meg a Magyar Lettre Internationale 2012. téli számában.
A lengyelországi illegális abortuszokról szóló Podziemie państwo kobiet című dokumentumfilm operatőre.
A film trailere angol felirattal
A teljes dokumentumfilm lengyel nyelven
Megjelent művei:
Małż (2006)
Ślad po mamie (2003)
Magyarul megjelent írása:
Matrjoska. In: Magyar Lettre Internationale, 2012/tél.
Ad blocker interference detected!
Wikia is a free-to-use site that makes money from advertising. We have a modified experience for viewers using ad blockers

Wikia is not accessible if you've made further modifications. Remove the custom ad blocker rule(s) and the page will load as expected.