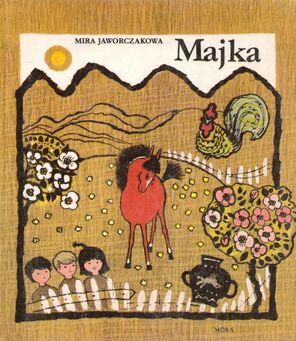 Mira Jaworczakowa, 1917. április 21-én született, 2009. október 5-én hunyt el Krakkóban; író, történelmi elbeszélések valamint gyerek- és ifjúsági könyvek szerzője. 1939-ben debütált a Płomyk című lapban, a későbbiekben több gyereklap mellett a Lengyel Rádióval is együttműködött.
Megjelent művei:
Wszystkim swoje księgi kładę (1980)
Gdy odbijamy od portu (1975; Kopernikuszról)
Majka z Siwego Brzegu (1973)
Po słonecznej stronie (1964)
Coś ci powiem, Stokrotko (1962)
Sanki (1961; Poczytaj mi mamo-sorozat)
Przyjaciel na zawsze (1960)
Oto jest Kasia (1959)
Niebieskie pióro (1956; Poczytaj mi mamo-sorozat)
Zielone pióro (1956)
A co się stało z derkaczem (1955; Poczytaj mi mamo-sorozat)
Jacek, Wacek i Pankracek (1955)
Hasło: Szkoła (1953)
Łąkowa piosenka (1952; Poczytaj mi mamo-sorozat)
Marmotek z gór (1946 vagy 1947, Mira Wiśniewska néven)
Magyarul megjelent műve:
Majka. Cservenits Jolán ford. Budapest: Móra, 1980.
Ad blocker interference detected!
Wikia is a free-to-use site that makes money from advertising. We have a modified experience for viewers using ad blockers

Wikia is not accessible if you've made further modifications. Remove the custom ad blocker rule(s) and the page will load as expected.