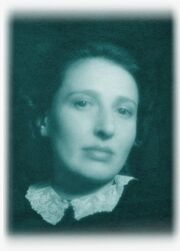 Natalia Gałczyńska, szül. Awałow, álnevén Anna Glińska, 1908. augusztus 26-án született Kaliszban, 1976. november 22-én hunyt el Varsóban, író, az orosz irodalom fordítója, gyerek- és ifjúsági könyvek szerzője. Konstanty Ildefons Gałczyński költő felesége.
Néhány megjelent műve:
Firoseta i czary : bajki znad Morza Śródziemnego
Książę i kuksańce : baśń neapolitańska
O wróżkach i czarodziejach
Pierścionek Alali : baśń prowansalska
A lányuk által szerkesztett, a házaspárnak szentelt oldal (lengyel és angol nyelven)
Ad blocker interference detected!
Wikia is a free-to-use site that makes money from advertising. We have a modified experience for viewers using ad blockers

Wikia is not accessible if you've made further modifications. Remove the custom ad blocker rule(s) and the page will load as expected.